Oasis 21 i Center Hands-On Event
(Marble Dyeing)
*Posted contents subject to change depending on the impact of the novel coronavirus.
Please confirm the latest information on the official websites.
When looking to enjoy more of Nagoya on Mondays, why not experience traditional crafts at Oasis 21?

Nagoya has long had roots in Arimatsu-Narumi tie-dyeing, Nagoya black dyeing, Nagoya yuzen silk dyeing and other dyeing techniques.
Oasis 21 i Center holds hands-on events every month where you can have fun experiencing Arimatsu-Narumi tie-dyeing and marble dyeing.
Little children are welcome to attend. Support is also available in English.
Reservations can be made in advance at Oasis 21 i Center or by phone starting from the date below. (*First come, first served)

【Reception Start Date】
January reservations: Monday, January 2 from 10:00 AM

【Oasis 21 i Center】
TEL: 052-963-5252
Time: 10:00-18:00

・Reservations are given priority. Same-day participation is possible if seats are available.
Any and all requests for tentative reservations, etc. before the above date will not be accepted.
・ As part of infection prevention measures, seats will be reserved for 30 minutes and limited to one dyed item per customer.
 Please choose from one of the start times below.
 11:00 AM / 11:30 AM / 12:00 PM / 12:30 PM
 2:30 PM / 3:00 PM / 3:30 PM / 4:00 PM
・Event dates will be cancelled if a state of emergency is declared. In addition, hands-on experience events may be cancelled if novel coronavirus infections increase significantly. In that case, those with reservations will be contacted, so please provide your name and contact information when making a reservation. If the event is cancelled, information will be posted on this website under "News" and on this event page.
・ Please be sure to contact Oasis 21 i Center if you need to cancel your reservation.


Requests for Cooperation

・ Wear a mask (please prepare your own).
Those who have difficulty physically wearing a mask are asked to protect themselves by following other anti-infection measures such as wearing a face shield.
・ Use hand sanitizer (if you have allergies, please prepare your own).
・ Fill out name and contact information.
*To be disposed of after one month. The personal information provided will not be used for any purposes outside of novel coronavirus anti-infection measures.
・ During the hands-on event, please allow faceless photos to be taken for our records.
・ Please understand that experiences outside of the designated technique are not available.


Please refrain from participating if you fall under any of the following.

・Those with a temperature of 37.5 degrees Celsius or higher on the day (temperatures will be taken again at the time of participation).
・Those with extreme fatigue or difficulty breathing.
・Those who experience a change in taste or smell that is different from normal.
・Those who have travelled to an entry-restricted country within the last 14 days or have entered from a country/region that requires an observation period, as well as those who have been in close contact with someone who meets the above.
・Those who suspect that family members in the same household or others they know are infected.

*If you are diagnosed with the novel coronavirus after participating in a hands-on event (within 14 days), please promptly contact Oasis 21 i Center.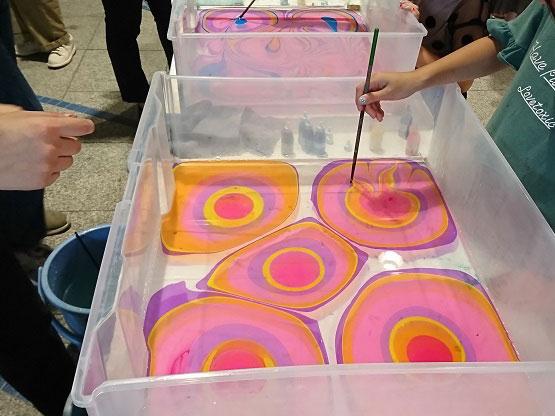 Participation Time: 15 min.
Instructor: YAMAKATSU SENKO CO., LTD Mr. NAKAMURA Takehiro

Dye a handkerchief with a marble, heart, flower or other pattern of your choice.
DETAILS
Schedule
Feb 20,2023
Venue
In front of Oasis 21 i Center
Cost
800 yen and up (1 dyed item)
Contact
Oasis 21 i Center (Reception Time 10:00-18:00)
TEL
+81-52-963-5252
Access
・Just outside of the East Gate of Sakae Station on the Meijo and Higashiyama subway lines (directly connected to the station)
・Just outside of Sakaemachi Station on the Meitetsu Line (directly connected to the station)
*Posted contents subject to change.
Please confirm the latest information on the official websites.