Nagoya Castle Summer Festival
This event has ended.
During the Summer Festival, opening hours are extended and events for enjoying summer at the castle have been prepared. Bon dancing, matchlock firing demonstrations, gourmet food at Shachi Shokudo, and lots of other events are planned. Come revel in summer at Nagoya Castle!
Nagoya Castle Summer Festival Bon Dancing
Bon Dancing will be held for the first time in two years centered around an original "Bon Dance Stage" made of Japanese cypress and decorated with Nagoya chochin (paper lanterns)! Have fun dancing while maintaining social distance!
On August 14, Grampus Day, mascot character Grampus-kun will also attend, and a collaboration event will be held.

Date: Every day during the festival
Time: 18:00~20:00
Place: Nishi-no-maru Area
Shachi Shokudo
A delicious eatery opens within the grounds of Nagoya Castle for a limited time!
Enjoy fluffy kakigori (shaved ice), ice-cold drinks, staple dishes, or local cuisine known as Nagoya Meshi.

Date: Every day during the festival
Time: August 7~9, 14, 15 10:00~20:00
August 10~13 16:00~20:00
Place: Nishi-no-maru Area
Japanese Umbrella and Fan Rental
Walks around Nagoya Castle become more pleasant with wagasa (Japanese umbrellas) to block the sunlight and mizu uchiwa (water fans) that produce a refreshing breeze. Slowly make your way around Nagoya Castle while staying cool.

Date: Every day during the festival
Time: August 7~9, 14, 15 10:00~20:00
August 10~13 16:00~20:00
Place: Nishi-no-maru Information Desk
Matchlock Firing Demonstration
Passed down since the time of the Owari domain, "The Art of Owari Tatsuke Style Gunnery" is being revived and performed! Marvel at this impressive, traditional matchlock firing demonstration.

Date: August 15
Time: 18:00~18:30
Place: Ni-no-maru Square
Important Cultural Property Southwest Corner Watchtower Special Opening
One of three corner watchtowers remaining from the Edo period, the Southwest Corner Watchtower will be open to the public for a limited time.

Date: Every day during the festival
Time: 9:00~16:15(Last admission is at 16:00)
Place: Hommaru Southwest Corner Watchtower
Spot Information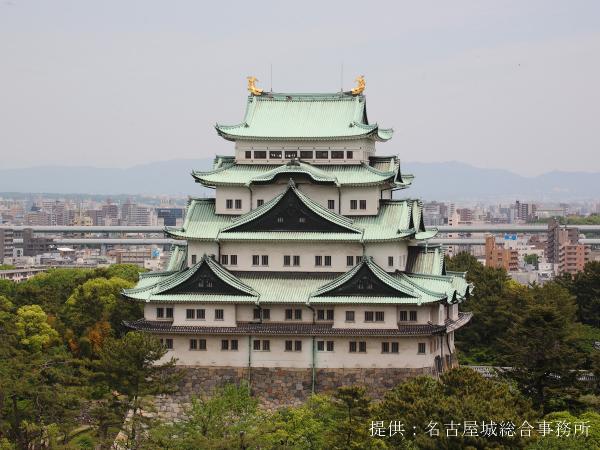 In 1610, Tokugawa Ieyasu began the construction of Nagoya Castle, as a residence for his son Yoshinao. The castle burned down in the war, but in 1959, the five-story main tower keep (approx. 48 meters), with its golden shachi ornaments, and the sub tower keep (approx. 24 meters) were reconstructed.
The Nagoya Omotenashi Bushotai greet visitors every day at the main gate, and were the reason behind the bushotai boom across the nation. They also put on an omotenashi performance on weekends and national holidays.
In addition, Hommaru Palace was fully opened to the public on June 8, 2018, after the completion of reconstruction work that had taken over 10 years.
DETAILS
Schedule
Aug 6,2022 ~ Aug 15,2022
Time
9:00~19:30 (Gates close at 20:00)
*Last admission to Hommaru Palace is at 16:00.
*The main tower keep is currently closed.
*Event time has been changed.
Venue
Within Nagoya Castle grounds
Cost
Admission fees apply
Price Details
Adults: 500 yen (400 yen for those wearing Japanese-style clothing such as yukata)
*Junior high school students and younger: free
Contact
Nagoya Castle Management Office
TEL
+81-52-231-1700
Access
●Just next to the Me~guru Nagoya Sightseeing Route Bus "4 Nagoya Castle" Bus Stop
●5-minute walk from Exit 7 of Shiyakusho Station on the Meijo subway line
*Posted contents subject to change.
Please confirm the latest information on the official websites.