Move easily in Nagoya City with the Nagoya Sightseeing Route Bus Me~guru♪
Move easily in Nagoya City with the Nagoya Sightseeing Route Bus Me~guru♪

Index
What is the Nagoya Sightseeing Route Bus Me~guru?
Me~guru is a convenient circulating bus that goes around to popular tourist spots in central Nagoya. Departing from Nagoya Station, the bus stops at a total of 11 spots, including Nagoya Castle and Tokugawaen. The bus operates Tuesday through Sunday, with volunteer guides riding in the mornings on weekends and holidays! Use this special bus for a leisurely trip at your own pace.

※Me-guru buses do not run on Mondays (except if Monday is a holiday, in which case they do not run on the following weekday instead), and during New Year's holidays (December 29 to January 3).
※Volunteer Guide program currently suspended.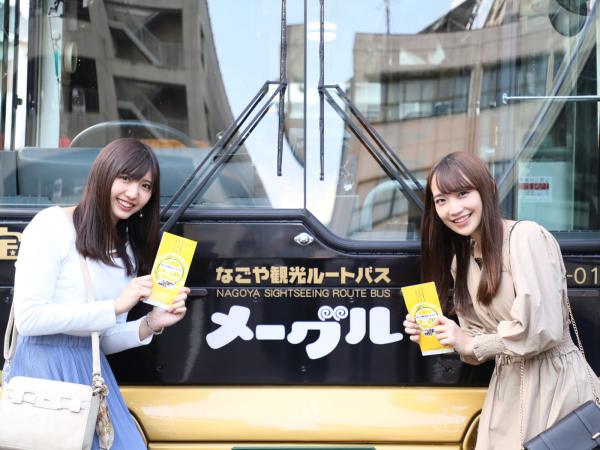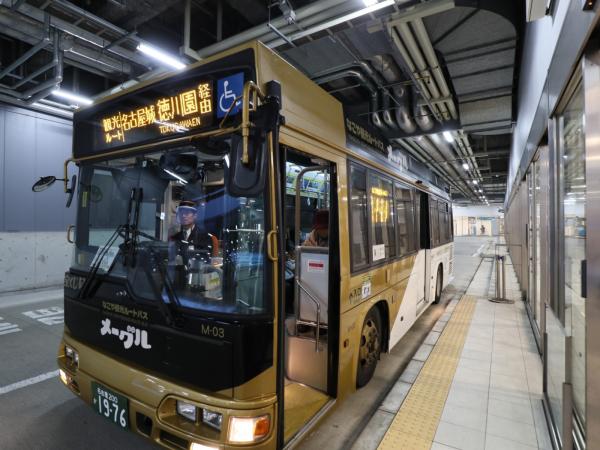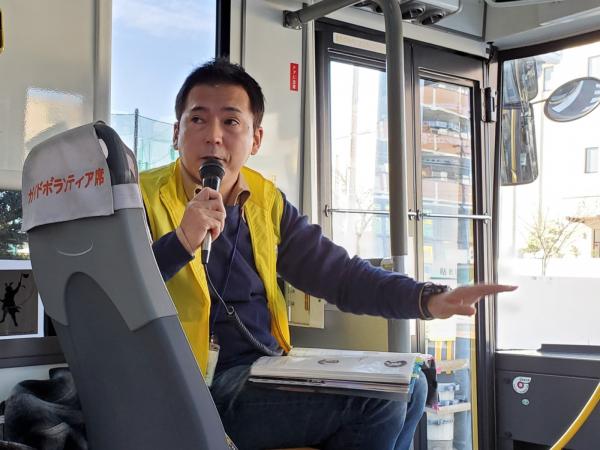 Me~guru Routes
The amazing thing about Me~guru is that it travels to sightseeing spots where even the locals are in complete agreement: "This is Nagoya!" Take advantage of the bus to enjoy Nagoya to the fullest.

<Me~guru Users Top Ranking>
※According to Mr. Yamada, a Me~guru volunteer guide
Where to Ride From?
The Me~guru Bus departs from Nagoya Station City Bus Terminal No. 11. Users must first go to the City Bus Terminal.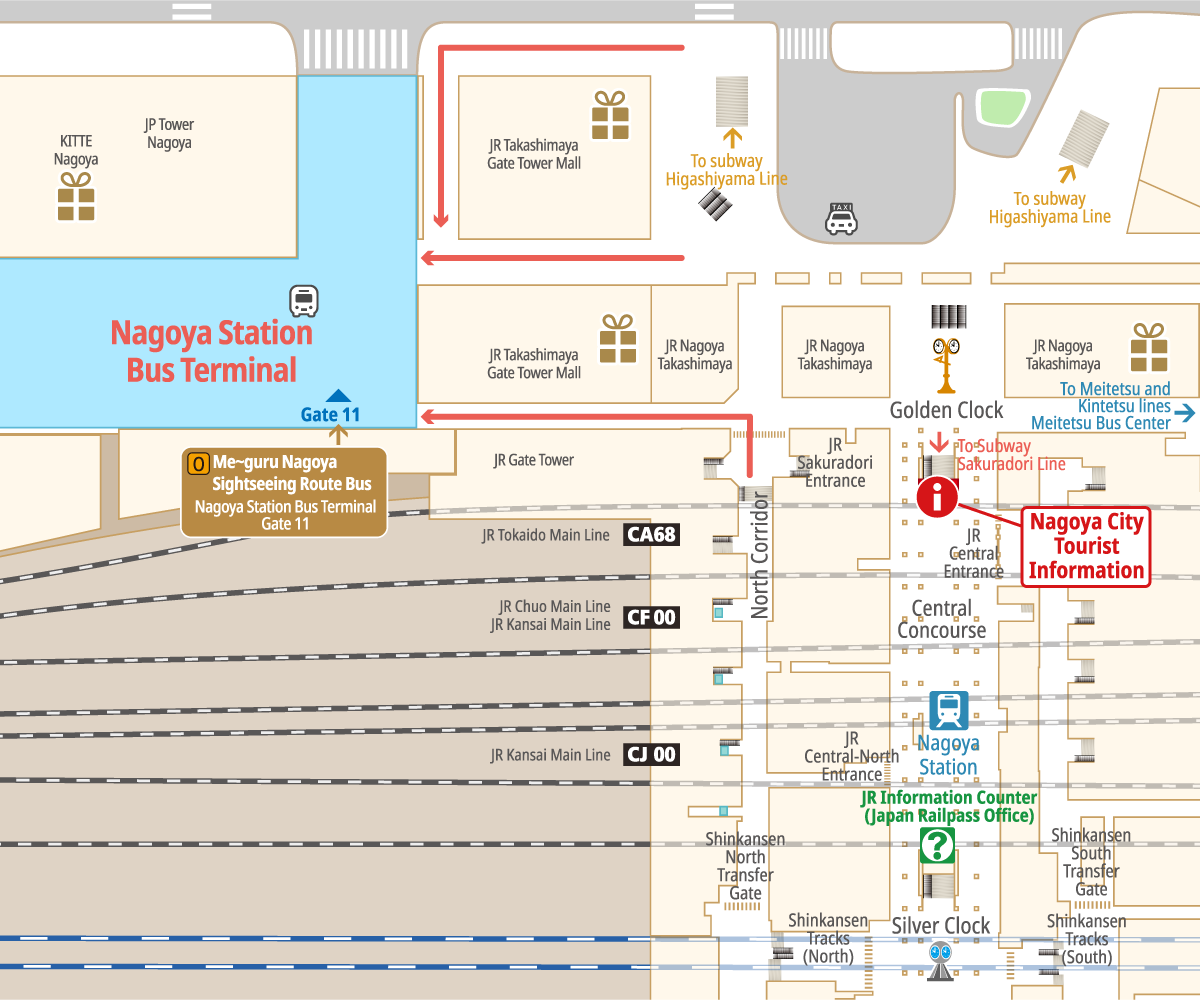 Head in the direction of the Sakura-dori exit of JR Central Concourse, where you can see the Gold Clock, a famous meeting place in front of four lanes of escalators. Facing towards the escalators, turn left and continue straight in the direction of the Sakura-dori ticket gates until you reach the bus stop. Since there are often large numbers of people, please follow the signs marked City Bus Terminal to avoid losing your way.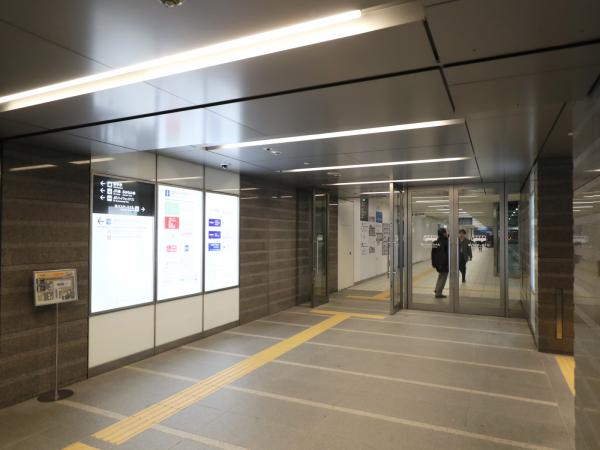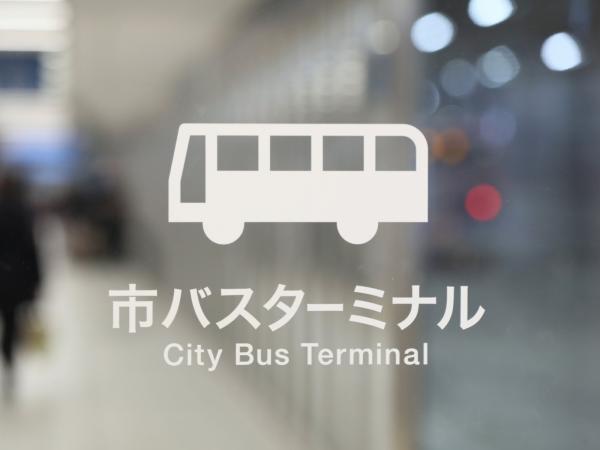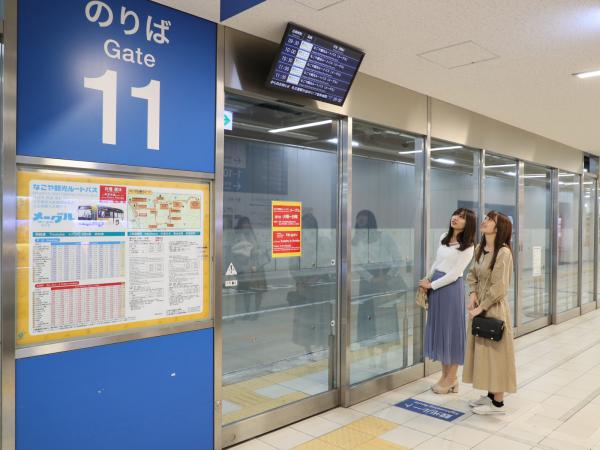 This is Gate No. 11. Buses run once every 30 minutes to 1 hour on weekdays, and once every 20 to 30 minutes on Saturdays, Sundays, and holidays. On Saturdays, Sundays, and holidays, staff members begin selling tickets 15 minutes before departure.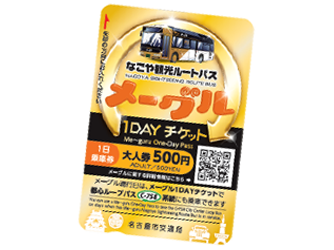 This is the special Me~guru One-Day Pass (adults 500 yen, elementary school age and younger 250 yen). Show this ticket to receive discounts at various attractions, restaurants, and souvenir shops.
You can also use the City Center Loop Bus C-758.
At Nagoya Station, One-Day Pass ticket sales start 15 minutes prior to departure at the bus stop (Saturdays, Sundays, and holidays only).
When riding from other bus stops or on weekdays, please purchase a pass from the driver when boarding the bus. Tickets can also be purchased from travel agents(*), hotels (*), Oasis 21 (Sakae), and Kanayama Tourist Information Centers.
When riding the bus only once, pay with cash or an IC card and use the bus as you would an ordinary bus (single ride 210 yen [children 100 yen]).
Weekend eco-tickets and one-day bus & subway combination tickets issued by the Transportation Bureau, as well as welfare railway tickets (senior's pass, etc.) can also be used.

>>Available at travel agencies, hotels, and tourist information centers
(*)Sale of coupons. Please exchange for a pass when you ride the bus.
A Note About Boarding the Bus
Outbound and inbound buses use the same stations. Take care not to mistake the direction.
Be especially careful at ①Toyota Commemorative Museum of Industry and Technology ③Shikemichi ④Nagoya Castle, where many people accidentally take the wrong bus! Between these stops, there are two directions, both an outbound route (heading away from Nagoya Station) and an inbound route (returning to Nagoya Station). Be sure to double-check the direction so that you don't accidentally make a big loop and delay your arrival.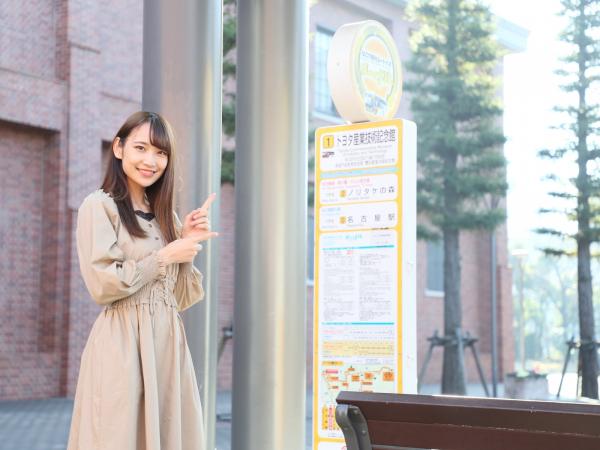 Which Bus Stops Require Special Attention?
The stops you need to pay particular attention to are ①Toyota Commemorative Museum of Industry and Technology and ④Nagoya Castle.
At these two places outbound and inbound buses use the same bus stops, so please make sure you're getting on the right one.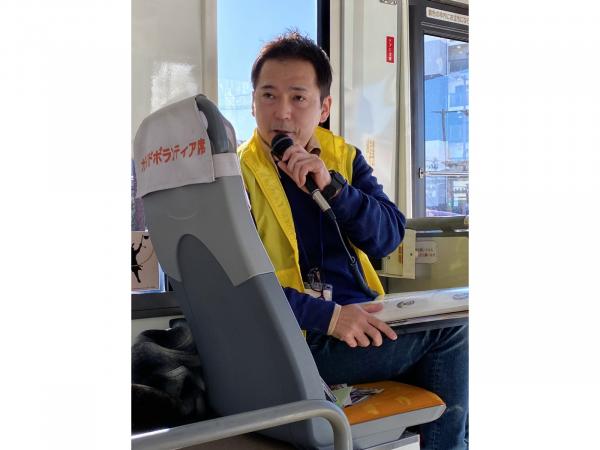 Expert Guide Mr. Yamada's Advice on How to Ride Me~guru
What's the secret to a better, cheaper way of using the Me~guru Bus?
We asked expert guide Mr. Yamada for his insights.
1 Leave in the Morning
I've tried riding the bus countless times, and visiting about three places will keep you busy. To get the most out of your trip, starting out in the early morning is best.
2 Start with Places Far From Nagoya Station
Rather than going to the places closest to Nagoya Station in order, try going the opposite way! For example, many people go in the order of ①Toyota Commemorative Museum of Industry and Technology → ④Nagoya Castle → ⑥Tokugawaen, The Tokugawa Art Museum, Hosa Library. If you start as far away from Nagoya Station as possible and make your way back to Nagoya Station, you'll be able to have a more relaxing trip without encountering crowds. However, if you are going to Nagoya Castle with the intention of seeing a martial arts performance by Nagoya Omotenashi Bushotai©, don't forget to check the performance schedule before riding.

Nagoya Omotenashi Bushotai© Official Website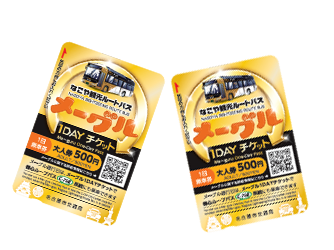 3. Purchase a Me~guru One-Day Pass
With a Me~guru One-Day Pass for 500 yen (children 250 yen), you can ride an unlimited number of times. A single ride costs 210 yen (children 100 yen), so if you calculate it out, you'll earn back the price of the ticket by going to three places. In addition, the One-Day Pass includes all kinds of discounts on sightseeing facilities, restaurants, and souvenirs, so it's actually a bargain when going to even one place. For those who plan on going to Nagoya Castle or Toyota Commemorative Museum of Industry and Technology, I especially recommend purchasing it for a 100 yen discount on admission.
It is also possible to board the City Center Loop Bus C-758.
Additional Information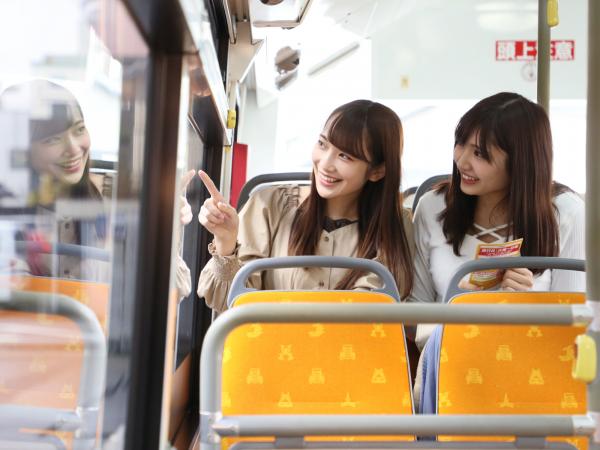 See Nagoya Without Ever Leaving the Bus!
If you have two hours free, sightseeing without leaving the bus is also recommended. One full loop takes an hour and a half, during which you can enjoy Nagoya's sightseeing spots from the comfort of the bus. This way, it will count as one ride for 210 yen per adult, and if you're lucky you can meet drivers who are also guides, like me.
※Volunteer guides only ride the bus on Saturdays, Sundays, and holidays.
※Volunteer Guide program currently suspended.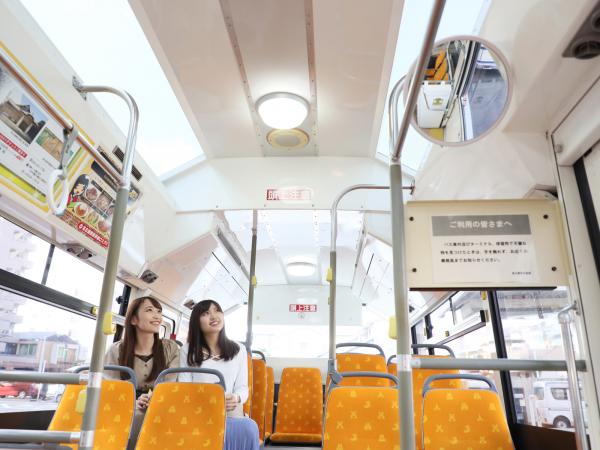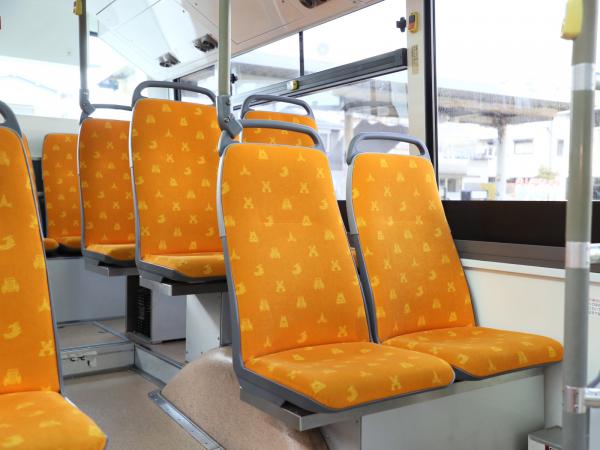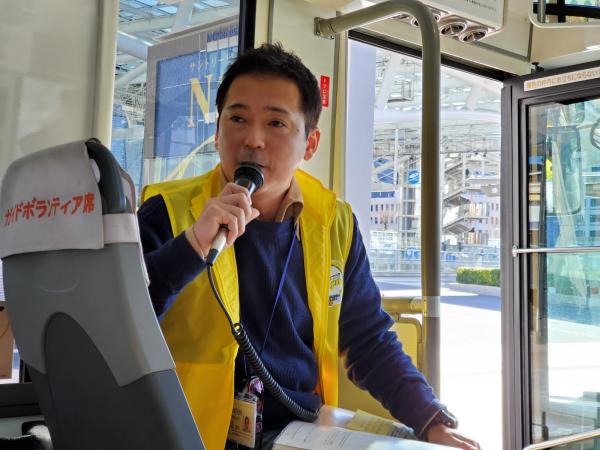 Nagoya Sightseeing Route Bus Me~guru
Volunteer Guide
Mr. Yamada Shoji
As beginners to riding the Me~guru bus, Mr. Yamada kindly guided us. Working as a Me~guru driver on weekdays, he puts his deep knowledge to use about once per month as a volunteer guide. His hobbies include jogging around to sightseeing spots in the area to collect new information and introducing all the ins and outs of Nagoya to lost tourists. He's especially popular for his fascinating stories and attentiveness.