Famous Blossom Viewing Spots in Aichi & Nagoya
Famous Blossom Viewing Spots in Aichi & Nagoya

Nature has always played a prominent role throughout Japan's long history and deep culture. Look at the family crests, for example, and note how many feature flowers or leaves. Look at the iconic images of Japan, and flowers will somehow always be present. Enjoying flowers, particularly flowers seen as auspicious, has also been a major part of traditional Japanese culture. To best understand Japan, and to appreciate her natural beauty, here are a few pointers.
◆Plum Blossom
First of all, it's not the cherry, but the plum blossom that heralds the arrival of spring in Japan, and while the cherry blossom has surpassed it in popularity, the plum has always been held in higher esteem. Plum blossom symbolized the principles and values of virtue, of hope and perseverance, of beauty and purity. For plum blossom, must-see locations include:
--Higashiyama Zoo and Botanical Gardens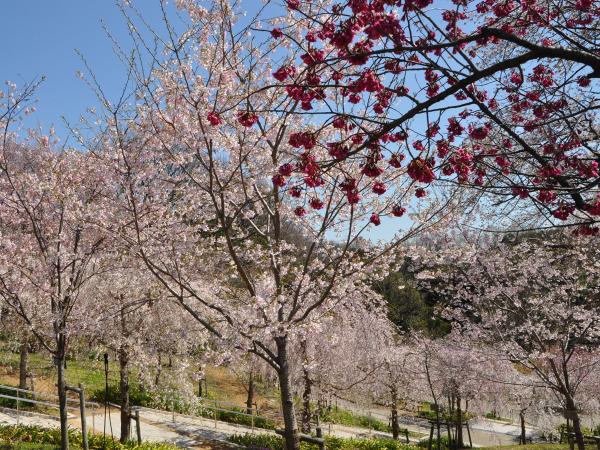 Nagoya's extensive Botanical Gardens contains over 7,000 types of plant. Naturally, plum is among them. There are two plum groves within the Botanical Gardens. The Ume-no-Tani, or Plum Valley, and the Ume-no-Oka, or Plum Hill. Both groves feature 20 kinds of plum, and over 200 plum trees in all.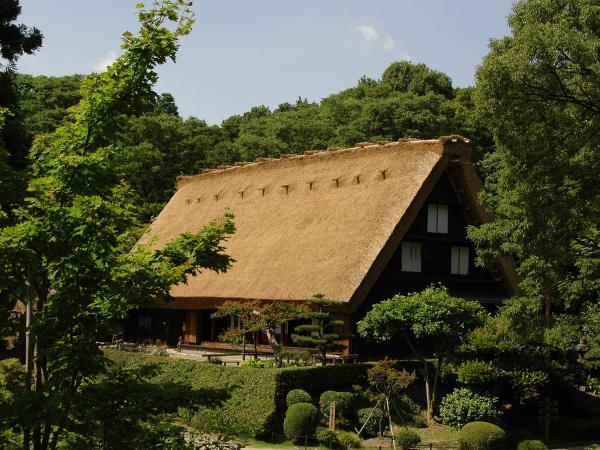 Besides the plum groves, within the grounds are a large classical styled Japanese garden, complete with an original traditional Gassho-zukuri, A-framed thatched roof house, relocated from the World Heritage listed Shirakawa-go Village. The gardens' classically styled glasshouse is designated an Important Cultural Property, and worthy of a visit in its own right.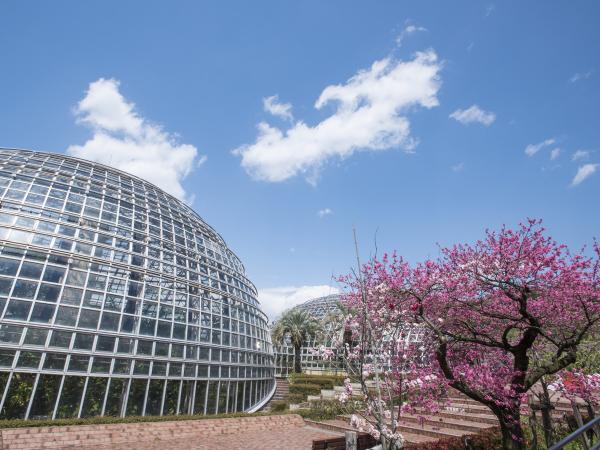 Located at the foot of Mt. Higashiya, the highest mountain in Nagoya, is the Togokusan Fruits Park, a popular outdoor agricultural education and entertainment area featuring 15 orchards of 15 kinds of fruit and tropical fruits, and a fruit house in which various kinds of fruits are introduced, a fishing corner, a Japanese garden, seasonal flower beds, restaurants and shops.

Over 21 types of plum and 200 plum trees grace the park, including white and red plums.
--Nagoya Agricultural Center
One of the biggest plum gardens in Japan can be found at the Nagoya Agricultural Center. Some 12 different varieties of red and white plum are grown, with around 700 weeping plum trees filling the grounds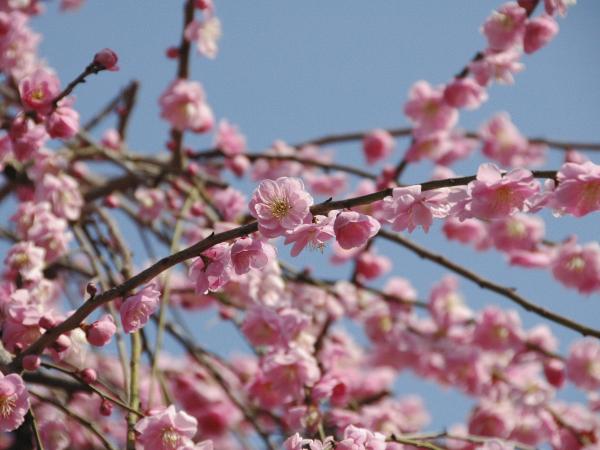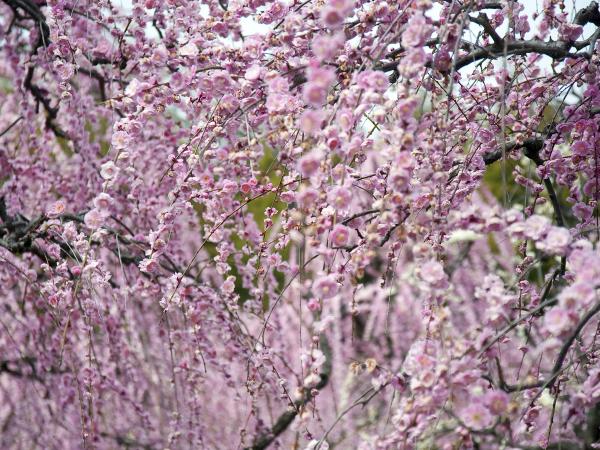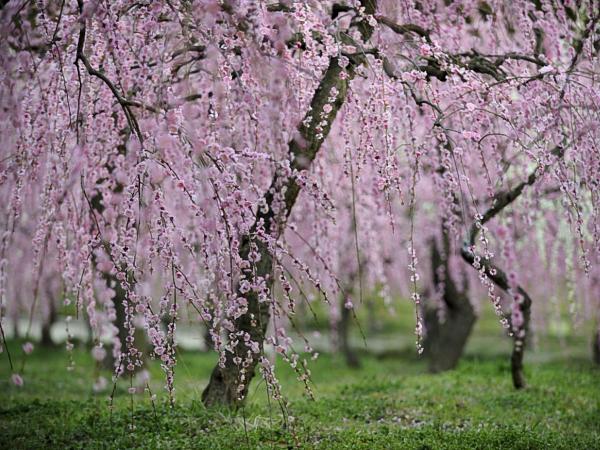 ◆Cherry Blossom
Think cherry blossom, and the world thinks Japan! For over 1,000 years the Japanese have appreciated the cherry blossom. It is part of the national psyche. Cherry blossoms appear in poetry, song, dance, art, woodblock prints, in literature, magazines film and TV. Every year around March and April, TV weather forecasts include nationwide cherry blossom bloom forecasts too. To see some of the most stunning cherry blossom in all of Japan, try here: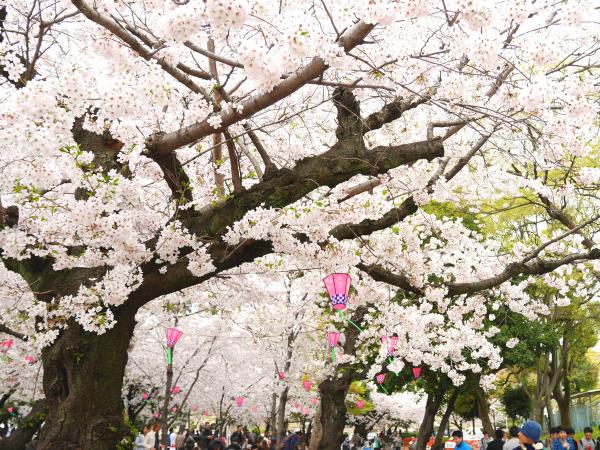 Right in front of JR Tsurumai Station is Tsuruma Park, one of Nagoya City's first public parks, established in 1909, and recognized as one of Japan's Top 100 Cherry Blossom Viewing Spots. Tsuruma Park was originally the zoological gardens. This is one of the best places to witness some long cherished Japanese culture, the Hanami, or Cherry Blossom Viewing party. Blue plastic sheets stake out each group's turf below the sacred flowers, and delicious foods and copious amounts of drink are consumed to peals of raucous laughter beneath the delicate blossom.

During the cherry blossom festival, Tsuruma Park's trees are illuminated at night to allow day and night enjoyment. Lively food and drink stalls and various entertainments add to the festivities.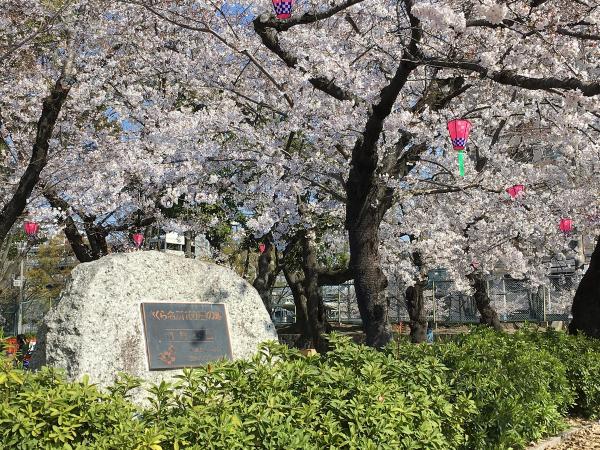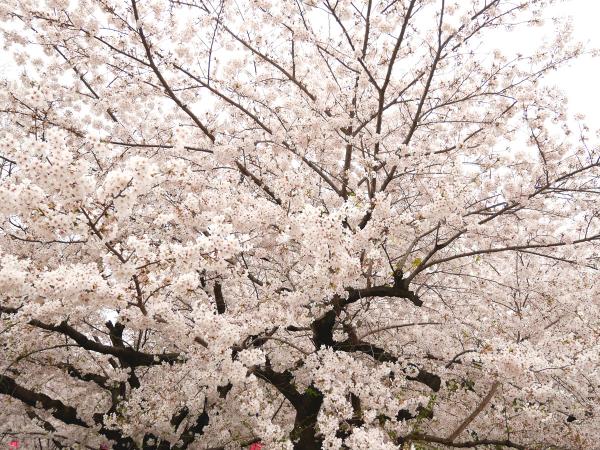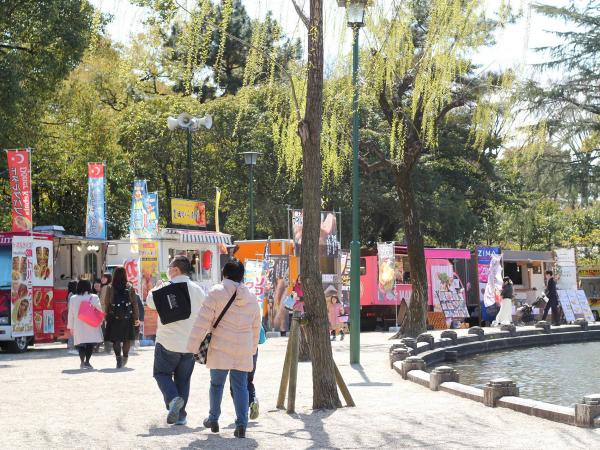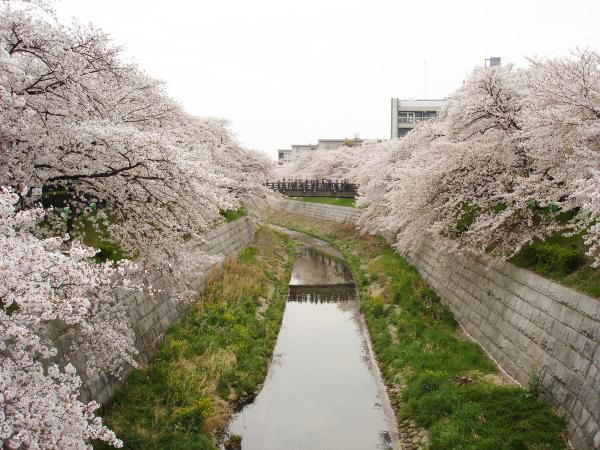 Nagoya has yet another of Japan's Top 100 Cherry Blossom Viewing Spots in the city's Mizuho Ward, where over 600 of the much prized and admired Yoshino cherry trees line both sides of a 2.8km stretch of the Yamazaki River between the Ishikawa and Aratamabashi Bridges. The blossom is thick, and so are the crowds, eager to emerge from winter slumber.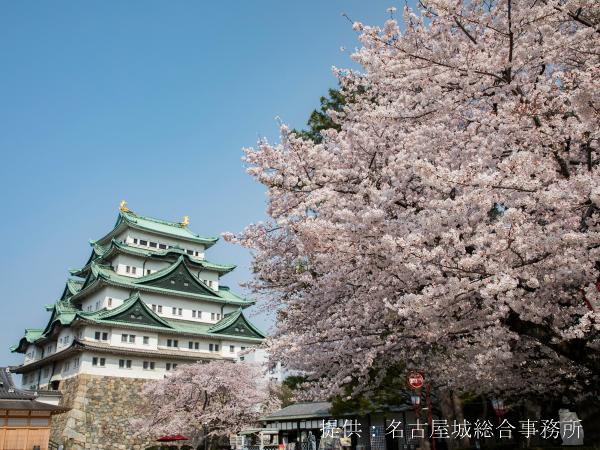 Wherever there is, or was, a castle, there will be cherry trees. Long admired by the samurai, who likened their own existence to the blossom; beautiful but short lived, and soon to fall gracefully. Cherry trees can always be found where there were samurai, naturally Nagoya Castle is such a place. Ten varieties of cherry tree, including the popular Someiyoshino and weeping cherry can be found amongst the 1,000 or so trees located around the sprawling castle grounds, near the tower keep, across the baileys, along the moats, around the Noh Theater, there are cherry trees everywhere.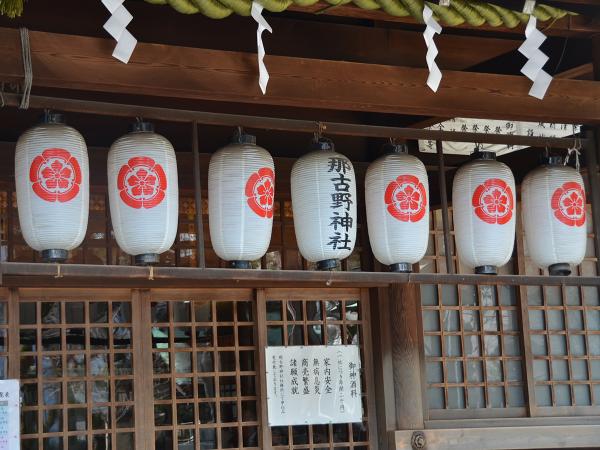 On the southern banks of Nagoya Castle's outer moat is the Nagoya Jinja, an ancient shrine with connections to the former regional rulers, the Oda clan, as well as the latter rulers, the mighty Tokugawa! In the spring, the shrine, and the adjoining Toshogu Shrine's grounds come alive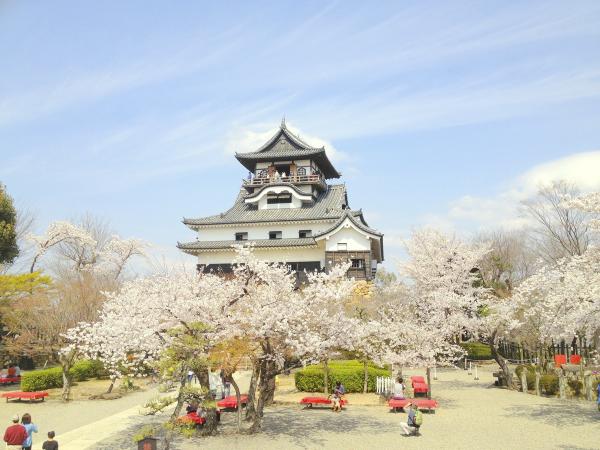 About 400 trees are located along the Banks of the Kiso River, and among the grounds of National Treasure listed Inuyama Castle. The samurai castle's rugged keep poking above the delicate cherry blossom makes for a great photo.
◆Fuji, Wisteria
Historically, wisteria, or fuji, was the symbol of the Heian era (794–1192 AD) ruling Fujiwara clan. The long-lived wisteria was symbolic of longevity and even immortality. In Japanese Kabuki theater, wisteria signifies love, tenderness, sensitivity, and even sensuality. Not surprisingly the regal flower plays a significant part in Japanese art, poetry and culture. To see this much esteemed flower, here is where you should go:
--Tsushima Tennogawa Park and Surrounding Areas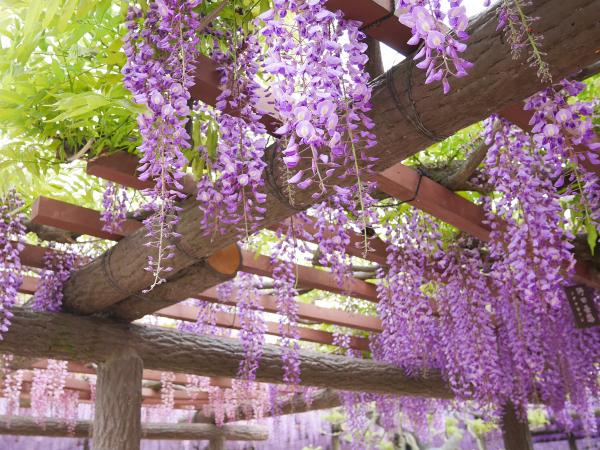 Tsushima City is famous for its summer lantern-lit festival, and as a place for enjoying wisteria. Every year from late April to early May the Owari Tsushima Fuji (Wisteria) Festival takes place. The venue is Tennogawa Park, where a 275m long trellis covering about 5,034 square meters and laden with many different varieties, lengths, shapes and colors of wisteria hang above the throngs of visitors. During the festival, the wisteria is lit up at night, further enhancing your enjoyment.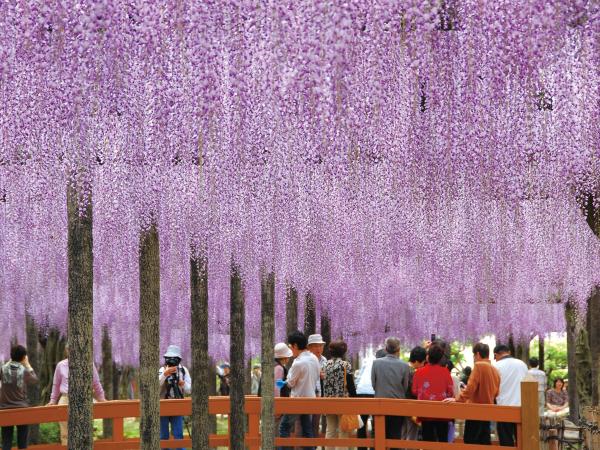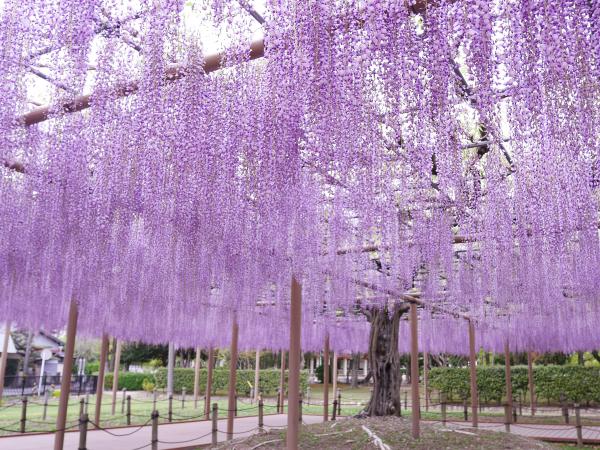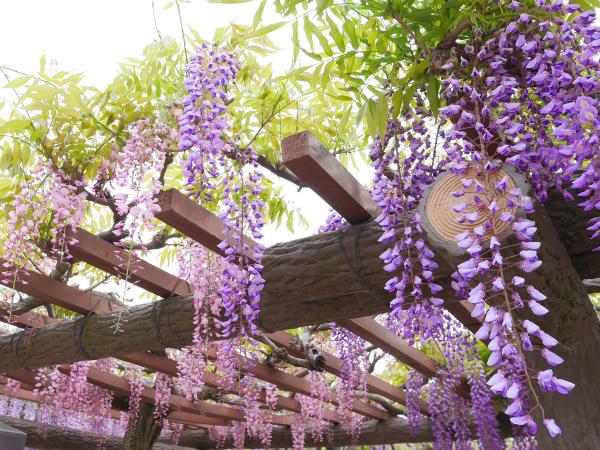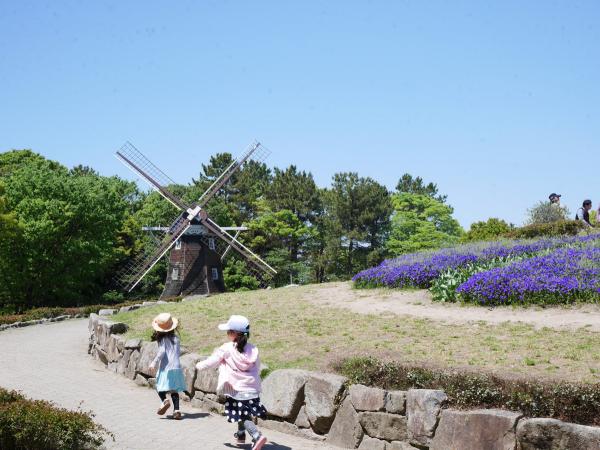 Just north of Nagoya Castle, nine varieties of 85 carefully tended trees cover a 660m long corridor of Wisteria from Nagoya Castle's East Gate to Meijo Parks' southern gardens, creating a trellis shelf area of 3,300m2 of glorious wisteria. Take your time walking beneath the vines and enjoy the scenes of the dangling wisteria against the backdrop of the castle's over 400-year-old stone walls and moats. Best of all, you can enjoy it for free!
--Mandara-ji Park, Konan City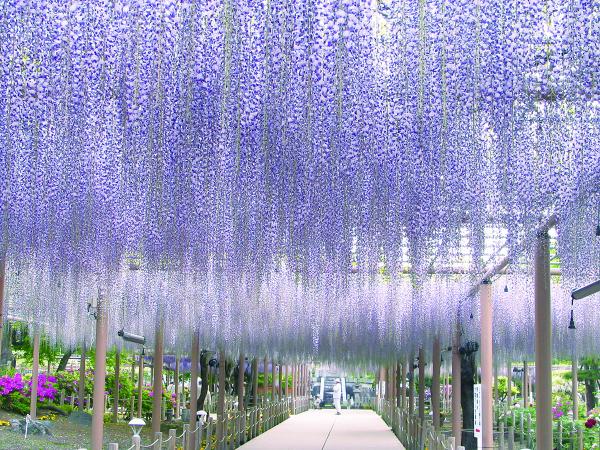 In the early 14th century, the Emperor Godaigo ordered a large wisteria garden be maintained beside the famed Mandara-ji Temple. That garden remains and is now known as Mandara-ji Park. Here the wisteria grows thick along a wide trellis some 75m long and 4,700 m2 in size. Regal purple, eye catching red and pure white wisteria of various sizes, lengths and hues, 12 types in all are carefully tended to year-round to produce the most stunning of flower displays.
Aichi & Nagoya's Blossoms
Plum, cherry and wisteria blossoms have different cultural and historical meanings in Japan, but are enjoyed by all. The blossoms are iconic scenes, to be enjoyed in the way the Japanese do. Scenes that will touch your heart, as you come to understand the soul of Aichi and Nagoya, Japan.